Ask to see a full case study of this project
PetSmart® Opens the First PetSmart Pet Spa Store, an Innovative Retail Concept Focusing on the Pet Lifestyle Experience
New Store in Oceanside, New York, Features Spa-Inspired Modern Design, Upscale Grooming Services, Self-Service Dog Wash and Amenities for Both Pets and Humans; Baked Dog Treats, Coffee Bar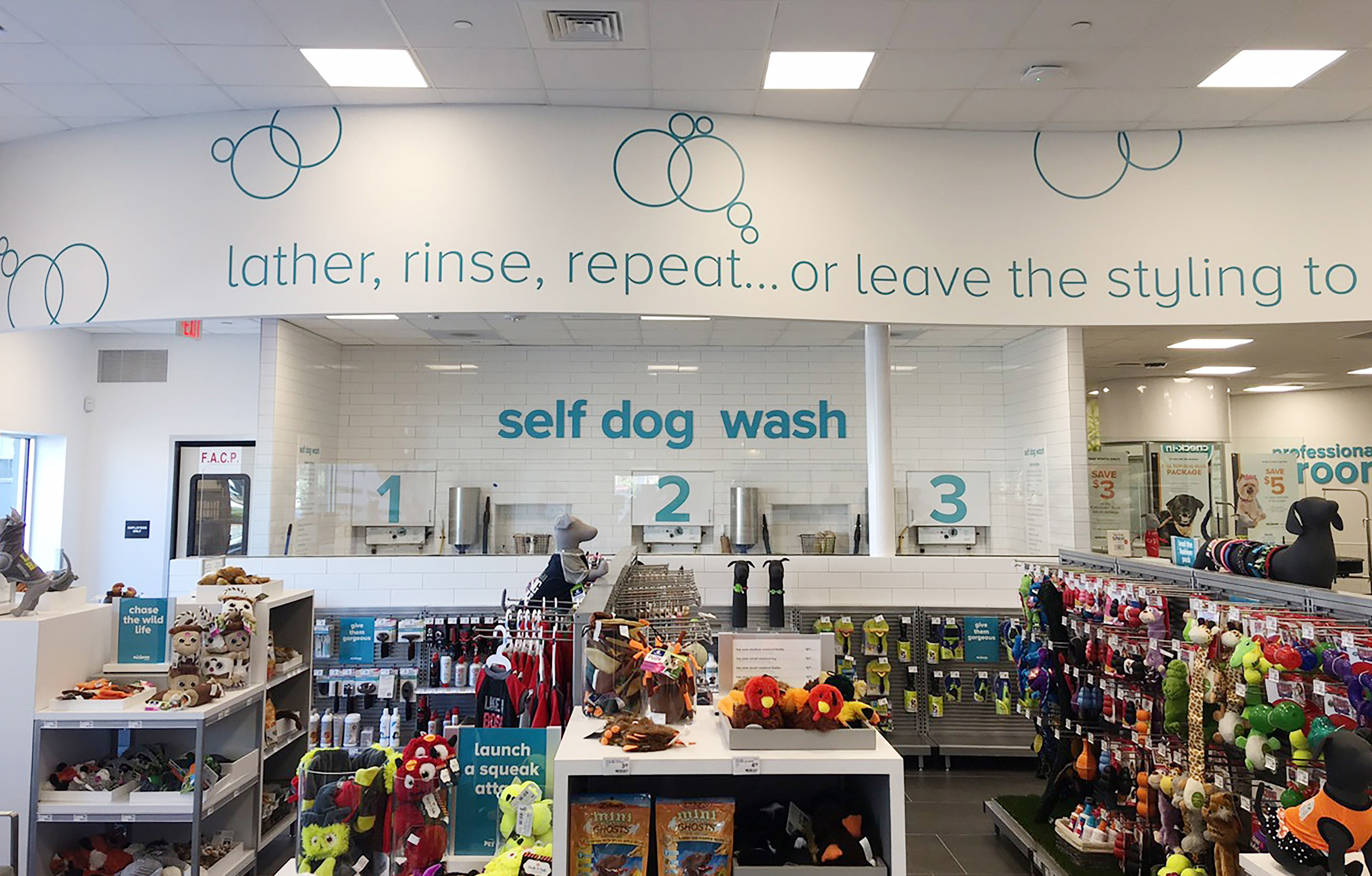 The new PetSmart Pet Spa store, located at 529 Atlantic Ave, features a heavy emphasis on pet services and has a unique, modern design with approximately 7,400 square feet of space – a smaller footprint than PetSmart's typical stores, which average about 18,000-20,000 square feet. According to the American Pet Products Association, Americans spent more than $60 billion on their pets last year, including on services such as grooming, and the new store is intended to draw and gain insights from this important trend.
Modern Pet-Lifestyle Design
– the first thing customers will see when they walk in the door of the PetSmart Pet Spa is an overall modern aesthetic and a circular "concierge" desk featuring a bakery case chock full of baked dog treats.
Self-Service Dog Wash
– three self-service dog wash bays give pet parents an easy solution to bathe and bond with their pet, especially after a day at the beach, which is just a few miles away. The washing stations feature wall-mounted washing and drying equipment and an array of complimentary shampoos and conditioners that address a range of needs from de-shedding to skin sensitivities.
Grooming Salon
 – the grooming salon is positioned directly next to the self dog wash area with fun header signage above: "lather, rinse, repeat…or leave the styling to us." The salon features a completely new and unique layout with five grooming stations anchored by a large circular column with wide, easy-to-maneuver table top spaces for the PetSmart grooming staff – all of whom are academy-trained and undergo 400 hours of certification training. A bathing area with stainless steel tubs allows for washing the pups and a movable kennel area with high-velocity no-heat dryers comfortably air-dry pups after a comforting hand-towel drying. Stools just outside the windowed grooming space allow pet parents to observe their pets as they receive their services. Near the salon is an expanded collection of at-home pet grooming supplies from popular human brands like CHI®, Burt's Bees®, as well as pet brand, Furminator®.
Coffee Bar-Lounge Area
 – seating for 12-plus and complimentary single serve beverages from MARS DRINKS including pressure brewed espresso, fresh-ground coffee, real-leaf teas, hot chocolate, cappuccinos, lattes and more.
Retail Space
 – features high-end pet essentials including collars, leashes, beds, toys and great pet gift ideas, as well as all-natural, wholesome pinnacle pet food – a rapidly growing segment among PetSmart shoppers and pet parents.
Banfield Pet Hospital
 – is adjacent to the Spa space and shares the same front door and includes its own check-in desk and waiting area. This pet hospital is among the largest inside a PetSmart store and includes surgical rooms, x-ray rooms, a feline room, comfort room and kennels.